Good Morning! My name is Angie and I blog over at
Successful Together
. I am SO excited to be here with you today!! Annette is a super lady, whom I had the pleasure of meeting through our Saturday morning WW meeting in Seneca. When she asked me to do a guest post featuring Grab and Go Breakfasts, I was THRILLED!
There are a few different levels of Grab and Go breakfasts. You can start with the true grab and go's that require little to no prep, Fresh Fruits. If nothing else, these can hold you over til you can get somewhere to have a more staying breakfast. Most of the recipes and items I will feature below should be ready in under 3 minutes, or can be prepped ahead to make it even easier to get in a good meal to get your day started on the right foot (or left, if thats the direction you so choose!)
PS Pardon the wonky-ness of some of the text not matching. Just roll with it!
Breakfast Smoothies
Smoothies are super refreshing and easy to make. Most can be prepped ahead so all you have to do it throw the ingredients in the blend, mix up and go. When I first started making smoothies, they were HUGE. SO large they would keep me full til lunch. I have slowly learned how to downsize them and keep them enjoyable.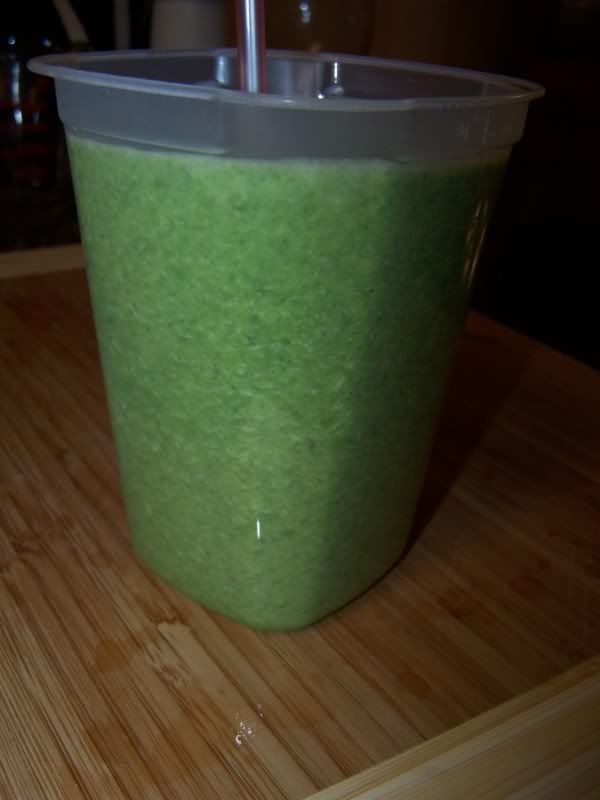 1 small apple, cored and diced
1 small banana, sliced and frozen
3 stalks of kale (but just the leafy parts!)
1/2 cup milk, slightly frozen
( i put mine in the freezer for about 30 minutes)
1/2 cup water
1 tablespoon of PB2
a few drops of vanilla flavoring
(just PPV from the PB2 & your Milk!)


1 oz 1/3 less fat Philly Cream Cheese
1/2 cup Peach Propel zero
Combine ingredients in blender and blend until
Yellow Morning Sunshine Smoothie
Ingredients:
3/4 cup mashed butternut squash, with brown sugar & cinnamon
1 frozen banana
1 cup frozen peaches
2 dole pineapple rings (canned in its own juice)
about 1 cup of water
2 Points+ (brown sugar, spray butter from the squash)
Solid Foods: Quick and Easy
Sometimes it is nice to have go to quick and easy dishes that are easy to transport. These are some of my favorites!
Turkey Egg and Cheese Sandwich
Ingredients:
2 Slices light wheat bread
1 egg
1 slice cheese
1 serving turkey deli meat ( I used Oscar Mayer)
Salt and Pepper to taste
Preparation:
Put your bread in the toaster.
Spray a small (1-2 cup size) microwave safe container
with pan spray. Beat egg in container, add salt and pepper.
Microwave on high for about 1 minute. CONTAINER WILL BE
HOT! =) Be careful when removing from the microwave.
While toast is finishing, put the deli meat in the microwave
for about 30 seconds. I normally will put it on a saucer
plate in about the size and shape of the bread.
Once your toast is done, put the meat on the bread,
top with cheese, and then turn the scrambled egg
out on top of the cheese. Serve and Enjoy!
About 7 Points+ depending on your ingredients!
Ingredients:
makes 1 serving
1/2 cup (130g) Sweet potatoes, canned in syrup,
syrup drained, then mashed.
1/2 cup pineapple tidbits, canned in own juice, juice drained
about 2 tablespoons of water
1 packet splenda with fiber
mix all of the ingredients together, stir to combine well.
Since I noticed some of the moisture cooked out yesterday,
I put a saucer over my bowl this morning before I
heated it in the microwave to hold it in a bit. Heat in
microwave for about 1-1.25 minutes. serve and enjoy =)
5 Points+ for all of it =)
Say hello to your breakfast with about 13% of you
DRV Iron, 230% Vitamin A, and 55% Vitamin C.
Pineapple and Strawberry Ricotta
Ingredients:
2 pineapple rings, diced and rinsed
3 oz strawberries, stems removed, diced and rinsed
1/4 cup ricotta
1 packet splenda with fiber

Combine pineapple, strawberries and splenda in food
processor until coarse.
Top ricotta, stir and serve!
Just the Points+ from your ricotta!
Egg and Cheese Breakfast Burrito
Ingredients
1 flour tortilla
1 Egg (you could use egg beaters)
1 tbspoon 2% cheese
1 tbspoon salsa
LINE
2-cup microwave-safe cereal bowl with
microwave-safe paper towel.PRESS tortilla into bowl.
BREAK egg into center of tortilla.

BEAT egg gently
with a fork until blended, being careful not to tear tortilla.
( I beat mine in a separate bowl!)
MICROWAVE

on HIGH 30 seconds; stir.

(I didnt stir mine!)
MICROWAVE until egg is almost set, 15 to 30 seconds longer.
REMOVE
tortilla with paper towel liner from bowl to flat surface.
TOP egg with cheese and salsa.

FOLD bottom of tortilla
over egg, then fold in sides.
5-6 PointsPlus Depending on your cheese! :)
Solid Food: Make ahead:
Make ahead and freeze, then just reheat and run!
Thank you Annette for having me! I hope this has inspired you to try something new! And we all know that breakfast foods are good anytime of the day!